Does Influencer Marketing Work? [& How Can Businesses Benefit]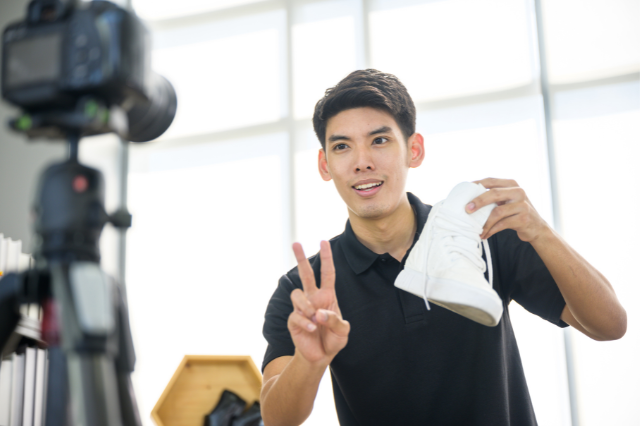 As social media is becoming more popular than ever, the impact influencer marketing can have is tremendous. It is one of the most effective ways to build your brand online and increase the awareness of your target audience. According to Forbes, influencer marketing is growing faster than digital ads. This is because it can expand your reach exponentially by using industry leaders to promote a business's products and services through endorsements and product mentions. Now that you know what influencer marketing is, let us dive into some of the benefits!
5 Benefits of Influencer Marketing:
Boost Engagement & Brand Awareness
Engagement is crucial when attracting new customers, and a significant factor in

increasing engagement on social media

is trust. Trust can be hard to establish in some industries, and working with influencers can solve that. Influencers have trust and authority within the industry and on social media. That's why 49% of customers rely on the

recommendations of influencers to make a purchase decision

. Therefore, an influencer's followers will respect their recommendations and engage in whatever product or service they are promoting. Also, promoting through influencer marketing will persuade followers to take the time out of their day to learn more about your brand and why you created this product/service.
Reach Target Audience
74% of people trust social networks to guide them to purchase decisions, meaning three out of four customers trust the opinions of friends, family, and influencers to assist in deciding on a product or service. There are influencers all over social media despite the industry. Because of this, when you choose a particular influencer, they have a direct line to your niche market, which are those who would be highly interested in the product or service you are offering. Doing so allows you to cut through the noise and reach the specific audience that you know is interested.
Save Money
Compared to traditional advertisements, influencer marketing tends to not be as bloated. With traditional advertisements such as Google Ads, a business has to bid against other brands who may have more funds allocated towards advertising and can rank higher for the keywords with the highest volume in the industry. Typically, influencers have rates that are a flat fee for each post. Additionally, businesses can pay for influencer marketing by compensating through affiliate links and direct commissions. Because of this, you are not paying for each person that sees the ad but only for those who buy the product or service.
Generate ROI
Influencer Marketing generates 11X the ROI of banner ads by generating demand for a product /service because they can demonstrate the solution to a problem many of their followers may be experiencing. Using this marketing tactic can foster a strong relationship that expands your connections to other influencers and different customer segments. In the long haul, this can lead to joint ventures or even live events, which would all be positive for a business.
Enrich Content Strategy
Producing fresh and entertaining content is challenging for many businesses, and partnering with an influencer can solve this. The best marketing influencers are those who are very familiar with producing content that engages their audience; therefore, partnering with an influencer gives the opportunity to have an agreement of content co-creation deals, where the influencer can help produce quality content that resonates with the target audience and boosts sales.
In all, influencer marketing is affordable, efficient, and ultimately worth every penny for startup brands or those having trouble gaining traction with their social media marketing tactics. It is crucial for every business to understand the benefits of influencer marketing and why it is one of the most popular marketing methods for the future. So, are you ready to take your social media advertising to the next level? Contact us or check out our Social Media Management Service so we can help guide you through the process!