Setting SMART Goals for Your Business [How to Market the Intelligent Way]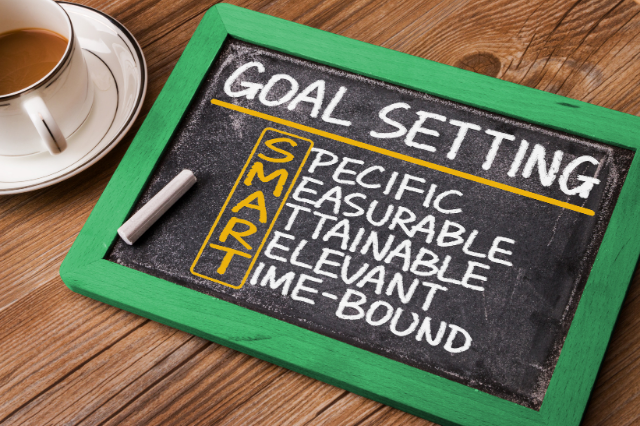 When you started your business, you probably had tons of dreams and expectations in mind. And that's awesome - everyone should aim high and want the best for themselves and for their new business venture. But, as you know, building a successful business certainly isn't easy. It takes a lot of hard work, dedication, and, of course, goals. Which brings us to the topic of this week's blog - SMART goals.
What are SMART goals and why should you care?
When first hearing the term "SMART goals," it's easy to assume that it means goals that are well-thought out. Nobody wants to use "dumb goals" to run their business, right? Right.
All jokes aside, SMART goals are actual tools that can help you focus your intentions as well as your wants and needs for your business to be successful.
According to our friends over at HubSpot, SMART goals are "concrete targets that you should strive to achieve over a certain period of time." Your SMART marketing goals should be carefully considered and drafted by a manager working alongside their direct report in order to try to reach the highest level of desired success.
You're probably wondering at this point, "Gee, why is Greyphin capitalizing the letters in the word SMART?" If you're not wondering that - eh, we'll tell you anyway. SMART is actually an acronym:
Specific: Avoid being vague by trying to be as detailed as possible with your goals. For example, instead of saying that you want to "make more money on products," try writing goals like your business wants to "increase the profit margin of (insert product here) by 50% within the next 6 months."
Measurable: Your SMART marketing goals should be measurable in some way. That means that your goals should be easy to track and also be quantifiable. Instead of saying that you want to "sell more sweatshirts," try coming up with a specific number of sweatshirts you want to sell within a time period. If you quantify your goals, you'll easily be able to tell whether or not you've achieved those goals and can adjust your efforts accordingly.
Attainable: Of course, all of your goals should be within reach. Never settle for less than what you think you can achieve, but also be sure to set SMART marketing goals that are attainable. Say you want to sign up more clients for your services each month. Instead of jumping from a 10% goal to a 25% goal from one month to the next, try something more reasonable, such as a goal of a 15% increase.
Relevant: This one is pretty self-explanatory. When creating your marketing goals, you'll want to place importance on goals that are relevant to your business. You want to choose strategies that make sense for what you want to achieve. For instance, if your target audience isn't on social media, then you might not want to spend a lot of time or money with social media marketing and focus efforts elsewhere.
Time-bound: Setting a specific time frame for a goal holds you accountable for trying to achieve that goal. Think about it like this: when you go to work every week, you make a schedule for yourself. You work towards getting certain tasks done on certain days of the week or at specific times of the day. The same should go for your marketing goals. Using deadlines for goals will help you stay on track and place priorities on which goals need to be achieved before others.
So what does this mean for you? You see, you could make a bunch of random goals for your business and go about things all willy-nilly, but nine times out of ten, you're most likely not going to see any success from that type of planning. Creating marketing goals that are specific, measurable, attainable, relevant, and time-bound helps make your goals more achievable by offering structure to your marketing efforts.
Need help setting SMART goals for your business? No problem! Greyphin's inbound marketing services are designed with your marketing goals in mind. Contact us today to see how we can help you grow your business!