Did you know that Greyphin is a proud HubSpot partner? You didn't? Well, it's true! We've partnered with one of the biggest heavy-hitters in the digital marketing world so that we can bring the best HubSpot content marketing tools to you and your business.
What is HubSpot?
Technically speaking, HubSpot is a customer relationship management (CRM) software platform that provides individuals and business with a wide variety of tools and integrations. These HubSpot marketing tools are designed to aid in marketing, content management, customers service, and sales efforts.
Through our partnership, clients of Greyphin will have access to the HubSpot content marketing tools through the Marketing Hub. The Marketing Hub features software whose purpose is to help you attract more high-quality traffic to your website and drive more conversions through inbound marketing campaigns. Some popular features include the lead generation, marketing automation, and analytics tools.
What are the Benefits of HubSpot Content Marketing Tools?
If you're a small business owner who's poised for growth, HubSpot marketing resources are perfect for you. If you aren't too well-versed in the ways of the digital marketing world, it can be confusing knowing exactly what you should be doing in order to help bring more potential customers to your website.
Enter stage left, HubSpot.
Greyphin's partnership with HubSpot boasts many benefits. Long gone are the days of wondering how to craft a successful inbound marketing campaign. HubSpot marketing resources and free training courses will give you the scoop on how to use their marketing tools for the utmost benefit to your business with informative landing pages, sign up forms, email sequences, and more.
Need help with email marketing? HubSpot has your back! Need a place to store all of your contacts? You guessed it - HubSpot has tools for that as well! Looking for templates to craft eye-catching blogs and landing pages for your site? *Points to HubSpot*. Need a centralized place for your social media posts and analytics? HubSpot.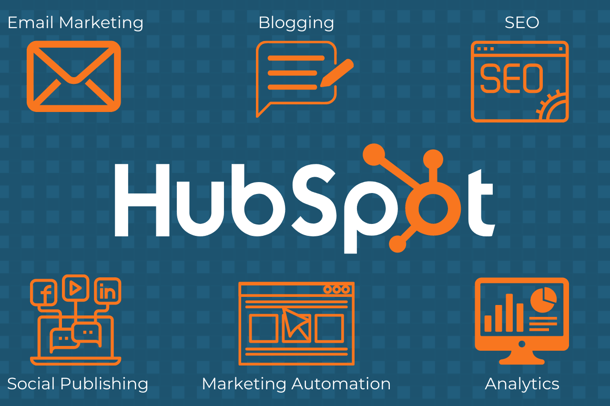 How Greyphin Uses HubSpot to Help Your Business
By now, you've probably learned that yes, we really love HubSpot. But there are many reasons why. The main reason is this - it's a great tool to have in conjunction with our inbound marketing program.
Our team of experts will work alongside your business to come up with inbound marketing campaigns designed to build meaningful and long lasting relationships with your customers and prospects. This is done by creating and offering content and experiences that are valuable to your ideal buyer in order to empower them to meet the end goal of purchasing your product or service.
So, if you want help attracting high-quality traffic through lead generation, content creation, marketing automation, and more - then signing up for services with Greyphin and HubSpot's mega-partnership is a step that you should consider taking.
If you're not sure if you need inbound marketing services for your business, no worries! Feel free to sign up for our free marketing audit so we can help you assess exactly what you may need to help your business grow. And, as always, feel free to contact us with any other questions you may have.