In-House Marketing Vs. Outsourcing Marketing [What Should You Choose?]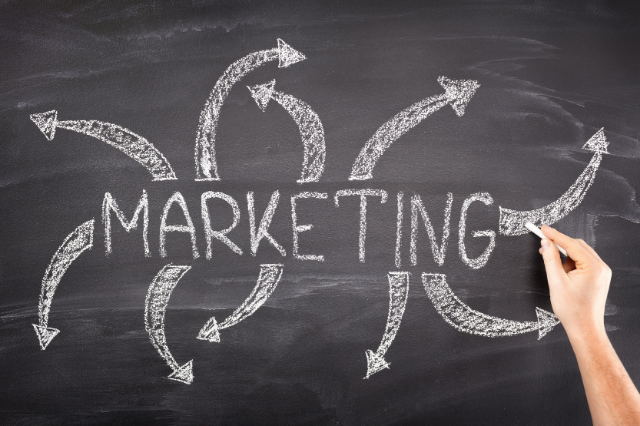 In our last blog post, we talked about reasons to outsource marketing (if you haven't read it already, we'd love it if you checked it out!) If you're thinking about outsourcing marketing for your small business, you may be wondering what the benefits are of hiring an outside digital marketing agency rather than hiring someone in-house to take care of your marketing needs.
And, if that's the case, you've come to the right place! Welcome to the magical world of inbound marketing. Be sure to keep your arms and legs inside of the moving vehicle at all times. Enjoy the ride and the views of sunshine, rainbows, puppies, and undulating hills full of beautiful flowers.
Okay; so inbound marketing isn't that dreamy. Which is probably why you're researching outsourcing marketing for your business in the first place. While it may seem smart to hire someone to your team full-time to craft and execute a marketing strategy for you, we'd like for you to hear us out.
Hiring someone in-house for marketing isn't always a bad choice. For businesses who have enough bandwidth and cash flow to have a marketing team, sometimes in-house hires are a great option. But for small businesses who are poised for growth, outsourcing marketing is usually a fantastic way to go.
You see, when you're trying to build your business in such a competitive digital space, it's important that you focus on running operations as smoothly as you can. So, if you think about it that way, you most likely don't have the time to dedicate to running your business and worry about the details of your marketing strategy.
In addition, hiring someone to your team full-time can be quite costly. When you choose to outsource your marketing to an agency like Greyphin, you'll typically spend less on services than you would on a full-time salary for a team member. And, instead of getting only one marketing specialist working directly for you, you'll get a full team of experienced and professional people who are experts in their field.
You'll also get outside perspectives on your business. We like to use this analogy: you know when you're working on a jigsaw puzzle and, after a while, it's hard to find pieces? The same can happen when you're trying to do marketing for your own company. Hiring an outside agency will help bring fresh eyes and perspectives that can really benefit your marketing strategy.
When it comes down to whether or not you should choose an in-house marketing rep or hire an outside marketing team, it's ultimately your choice. But if you're ready to take the next step in outsourcing marketing to help your small business grow, be sure to contact us here at Greyphin and we'll help you create a strategy that's sure to take your business to the next level.